TEG Bath Cleaning System is mainly used in the chemical fiber industry. It is designed for cleaning spinnerets, spinpacks and filters of PET.
► FEATURES:
Single/Double/Triple pot configuration
The cleaning is fully automatic
Water cooling system
Cleaning cycle is adjustable as per requirement
Low power consumption
Stainless Steel structure
► SPECIFICATIONS:
NOTE: Couldn't list all here. Can be customized according to the size of parts to be cleaned.
► CONSTRUCTION
Cleaning Pot – made of stainless steel, with a cooling jacket wrapping the barrel for cooling the temperature of TEG solution after the claening by putting in the cooling water to the jacket and drain out in the other side.
Cover – elliptic, for gathering the vapor of TEG, intergrated with a condenser which actually is a tube type heat exchanger. The cooling water flow through the shell side and the vapour of TEG go through the tube side, after the cooling, changed into the TEG solution again, and then back to the cleaning pot from the upper flexible metal tubing.
Electric Heater– flanged type, installed at the bottom of the cleaning pot, directly contact with the TEG solution.
Basket – made of stainless steel, customized to the parts to be cleaned, perforated, multi-tire, and so on.
Control Panel – independent operation, auto logic programmed control of individual cleaning pots. PID temperature control, SSR drive for heater control.
► EXPORT PACKING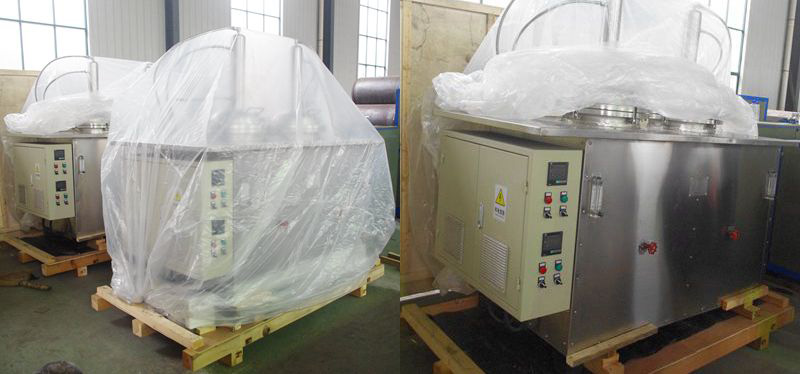 ---
If you are interested in this product, please don't hesitate to contact us. Up to now, SNT has been exporting thermal cleaning equipments to more than 30 countries by providing the highest quality and the most competitive price.