Fluidized bed cleaning system is designed specially for cleaning polymers and organic contaminants from a variety of metal components. It's a fast, cost-saving and environmentally friendly cleaning method.
► CLEANING: 
► FEATURES:
▪ The parts can be cleaned without thermal damage
▪ Precise temperature control.
▪ Suitable for different thermoplastic polymers, e.g. PET, PA, PP, TPE, PB, PBT, PC, PMMA, ABS, etc.
▪ Short cleaning cycles and low energy consumption.
▪ Simple operation.
▪ Safety and no pollution.
► SPECIFICATIONS:
NOTE: Couldn't list all here. Can be customized according to the size of parts to be cleaned.
► CLEANING PROCESS:
The cleaning temperature of chamber inside is depended on the kinds of polymers and typical cleaning temperature is 450°C – 540°C. After the temperature of chamber inside reaches to the setting temperature, the parts to be cleaned are put on the basket specially designed and the basket is immersed into the hot fluidized bed . Now the thermal cleaning process is started.
The parts to be cleaned are totally immersed in the aluminum oxide fluidized by compressed air . Electrical band heaters transfer the heat to aluminum oxide particles which are the heat transfer medium and these particles are moved by compressed air and at the same time, particles also heat its surrounding air. The hot air heated in this way burns the polymers and organic contaminants on the parts to be cleaned.  Here, the function of aluminum oxide particles is only for heat transfer and its low velocity is only 600 – 800 mm/min. Therefore, no damage even to the parts.
During the cleaning process, all organic residues such as polymer removed by thermal oxidation and become the off-gas without melt and the off-gas is come out by exhaust blower. Very few of aluminum oxide particles may come out with off-gas, but the particles are collected by a sand trap and are reused again. So the non-particles off-gas is blown to the afterburner and burnt and cracked around 900°C – 1100°C while passing the combustion chamber and then exhaust.
► FLOW CHART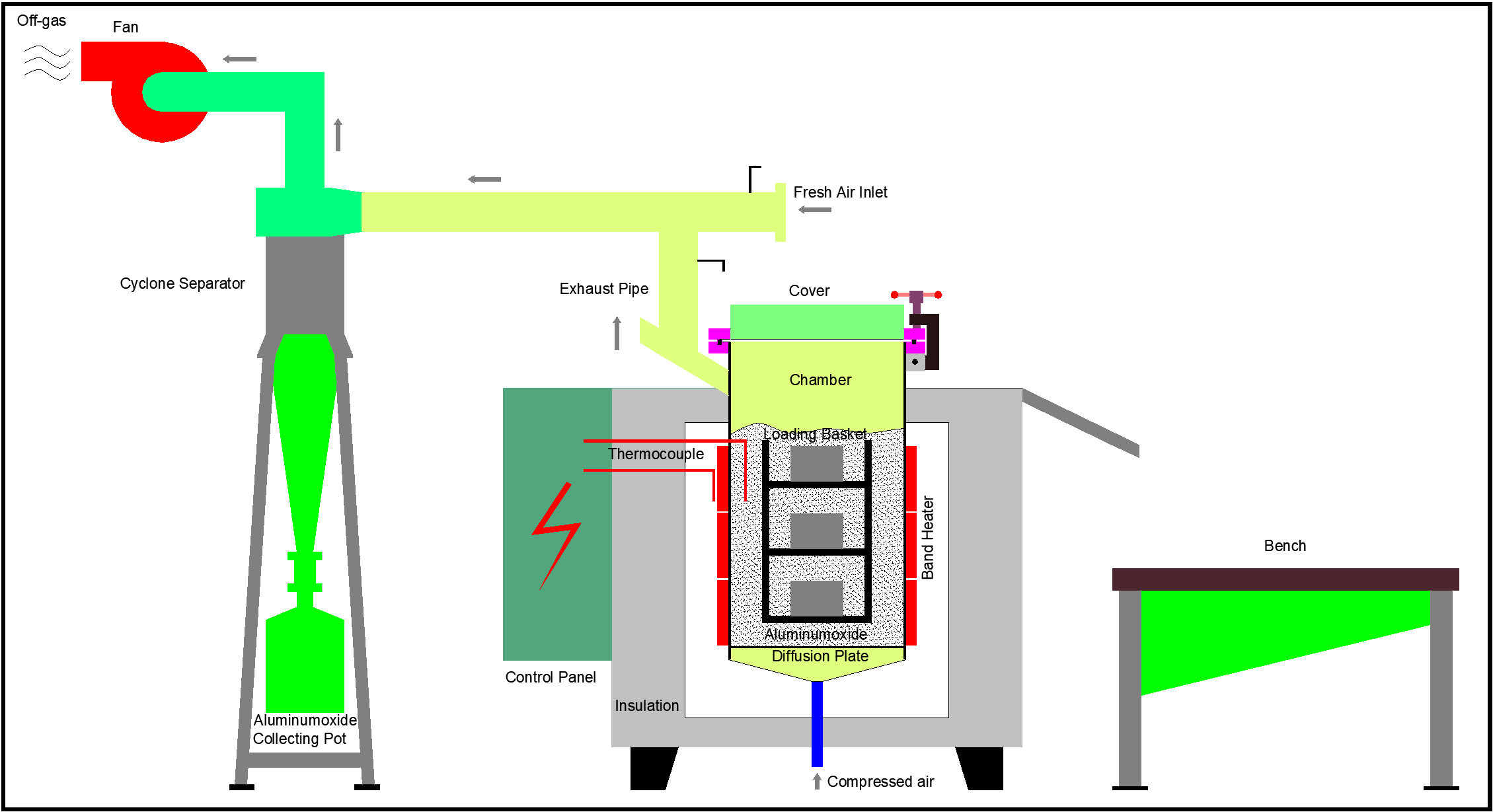 ---
If you are interested in this product, please don't hesitate to contact us. Up to now, SNT has been exporting thermal cleaning equipments to more than 30 countries by providing the highest quality and the most competitive price.